A deluxe, all-analog, reissue of The Monkee's second album, "More of the Monkees" 
By Evan Toth 
Here they come, walking down the street...well, you know the rest. The Monkees are back, this time via Run Out Groove Records.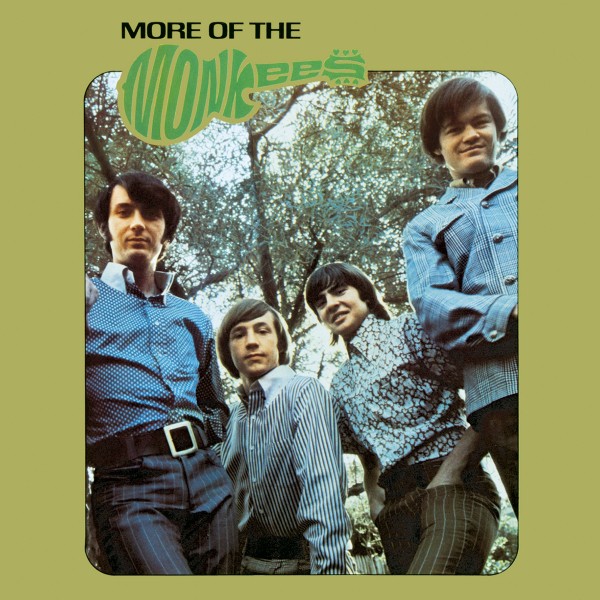 "...the standard album tracks, lacquers will be cut from the original stereo analog tapes by Kevin Grey and Andrew Sandoval. It will be expanded to a 2LP set that includes rarities making their debut on vinyl...in a gatefold, tip-on style jacket with new liner notes by Andrew, and lots of photos." 
"More of the Monkees" is an underrated rock and roll record and this treatment is well-deserved, especially considering there is a bonus disc. Run Out Groove is an interesting company that works primarily off of a customer voting and pre-order process. Pre-orders are open until August 17th, then they are manufactured for a one-time limited and individually numbered pressing. $35.98 and it's all yours. More about the release below: 
The Monkees, "More of the Monkees" (Run Out Groove) 
Lacquers cut from the original analog stereo tapes 
Includes a second LP of bonus tracks: several exclusive to this set. All tracks making their vinyl debut in these mixes. 
Pressed on 2-180g records, comes in a deluxe tip-on style gatefold jacket, with new photos and liner notes 
Initial orders www.runoutgroovevinyl.com get an ultra-limited green vinyl edition while supplies last. 
Limited and individually numbered.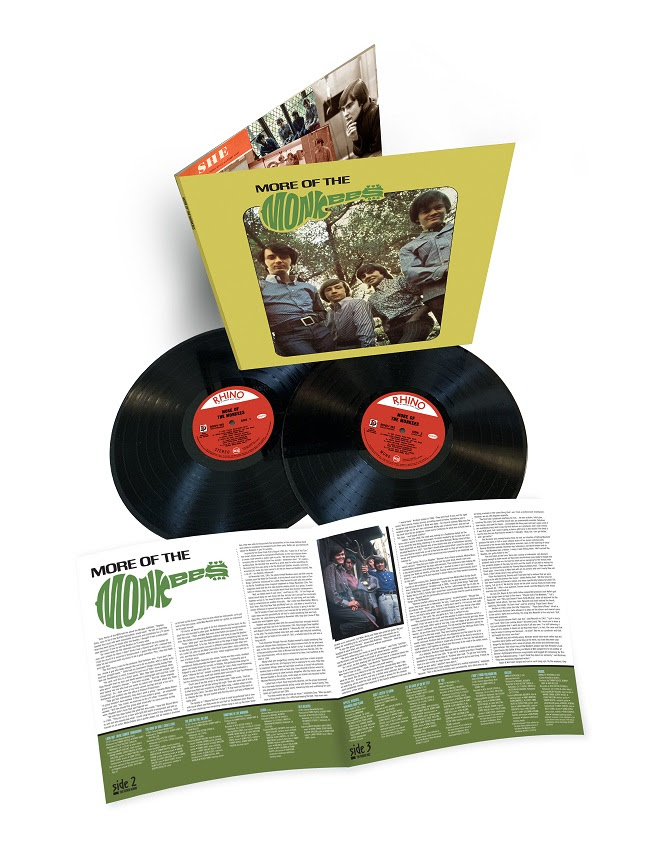 Run Out Groove is reissuing their iconic sophomore album as a deluxe 2LP set with bonus tracks (several of which are unreleased mixes) and have lacquers cut from the analog stereo tapes for the first time since 1966. Track Listing Side A 1 She (stereo mix) 2:40 2 When Love Comes Knockin' (At Your Door) (stereo mix) 1:48 3 Mary, Mary (stereo mix) 2:20 4 Hold On Girl (stereo mix) 2:28 5 Your Auntie Grizelda (stereo mix) 2:36 6 (I'm Not Your) Steppin' Stone (stereo mix) 2:34 
Side B 1 Look Out (Here Comes Tomorrow) (stereo mix) 2:16 2 The Kind Of Girl I Could Love (stereo mix) 1:54 3 The Day We Fall In Love (stereo mix) 2:25 4 Sometime In The Morning (stereo mix) 2:31 5 Laugh (stereo mix) 2:29 6 I'm A Believer (stereo mix) 2:49 
Side C 1 Apples, Peaches, Bananas and Pears (stereo) 2:18 2 Don't Listen To Linda (2017 stereo remix) 2:29 3 I'll Be Back Up On My Feet (first recorded version) 2:38 4 Of You (mono mix) 1:58 5 I Don't Think You Know Me (second recorded version – mono mix) 2:20 6 Words (first recorded version – mono TV mix) 2:49 7 Valleri (first recorded version – mono TV mix) 2:32 
Side D 1 Through The Looking Glass (first recorded version – 2017 stereo remix) 2:34 2 I Never Thought It Peculiar (mono TV mix) 2:13 3 Tear Drop City (1966 mono mix) 2:18 4 Hold On Girl (first recorded version – 2017 stereo remix 2:46 5 I'll Spend My Life With You (first recorded version – 2017 stereo remix) 2:32 6 Mr. Webster (first recorded version – 2017 stereo remix) 2:52 7 (I Prithee) Do Not Ask For Love (first recorded version – 2017 stereo remix) 3:18