Jazz supergroup The Cookers are back with the announcement of their sixth album, titled "Look Out!" via London's, Gearbox Records on September 24th, 2021. 
The album was recorded at legendary engineer Rudy Van Gelder's studio in Englewood Cliffs. New Jersey. The album will be released on vinyl, CD and digital, the vinyl copy will feature each of the members signatures inscribed into side D.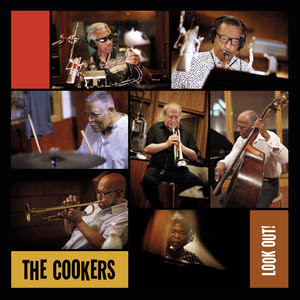 The members of The Cookers are all experts in their field:
"Billy Harper, Cecil McBee, George Cables, Eddie Henderson, and Billy Hart all came up in the heady era of the mid '60s. Hart and Henderson were members of Herbie Hancock's groundbreaking Mwandishi group; Cecil McBee anchored Charles Lloyd's great '60s quartet alongside Keith Jarrett and Jack DeJohnette; Billy Harper was part of Lee Morgan's last group, as well as being a member of Max Roach's Quartet and Art Blakey and the Jazz Messengers; while George Cables held down the piano chair in numerous bands including groups led by Sonny Rollins, Joe Henderson, Freddie Hubbard, Dexter Gordon and Art Pepper."
David Weiss and Donald Harrison have performed with Art Blakey, Bobby Hutcherson, Freddie Hubbard, Charles Tolliver, Roy Haynes and Herbie Hancock. 
Check out the new lead single "Somalia" which, "is a superlative Billy Harper number from the early '90s that is a prime examples of a personal thematic language that is deeply rooted in black sacred music traditions but also conjoined to a variety of other vocabularies, above all the propulsion of African grooves and chants. Harper has a gift for majestic lyricism that he sculpts with a steely, piercing tone and ecstatic phrasing that has made him among the most distinctive of post-Coltrane players heard in the past 5 decades."
—— 
Tracklist: 
1. The Mystery of Monifa Brown 
2. Destiny Is Yours 
3. Cat's Out The Bag 
4. Somalia 
5. AKA Reggie 
6. Traveling Lady 
7. Mutima 
—— 
Credits: 
Billy Harper - tenor sax 
Eddie Henderson - trumpet 
David Weiss - trumpet 
Donald Harrison - alto sax 
George Cables - piano 
Cecil McBee - double bass 
Billy Hart - drums